Top facts from the World Cup
The World Cup in Russia has been entertaining us for several days now. The best national teams in the world are fighting for the most precious trophy and any failure brings damnation. They need to do their absolute best and overcome the limits of what's possible. And who's taken the first step to success? We've prepared interesting stats from the first round of the World Cup and also from goals scored by individual types of football shoes.
Historic moment
At the age of 33 years and 130 days, Cristiano Ronaldo has become the oldest player in the World Cup history to score a hattrick. At the same time, it was the 54th hattrick in his career, and CR7 is only the fourth player to score on his fourth world cup.
Cristiano dazzles everybody in Nike Mercurial Superfly shoes.
The importance of the moment
A mere 4 minutes and 7 seconds passed between the penalty kicks by France and Australia in their game. This is the shortest period between the referee whistling for two penalty kicks in the history of football world cups. Even experts make mistakes sometimes Lionel Messi didn't play a very good game against the Northerners from Iceland. All of his eleven shots were wide and he even missed his fourth penalty kick out of his last seven attempts. Frustrating.
Hangover of the champions
The defending champions from Germany lost their initial game at the World Cup to Mexico 0:1. This is the third world cup in a row at which the defending champion didn't win their first game (Italy vs. Paraguy 1:1 in 2010, Spain vs. Netherlands 1:5 in 2014). Both the teams then failed to qualify for the playoffs.
Marksmen
The goal by Philippe Coutinho was already the 37th goal the Brazilians have scored from outside the box since 1966. That's 11 goals more than the second best team in this statistic.
Philippe Coutinho scores wearing Nike Mercurial Vapor shoes.
Mysterious magic
Iran has become the first team since 1966 to fail to even shoot at the opponent's goal in the second half but still managing to score.
Goals scored by individual types of football shoes.
(We count every goal scored by a specific player).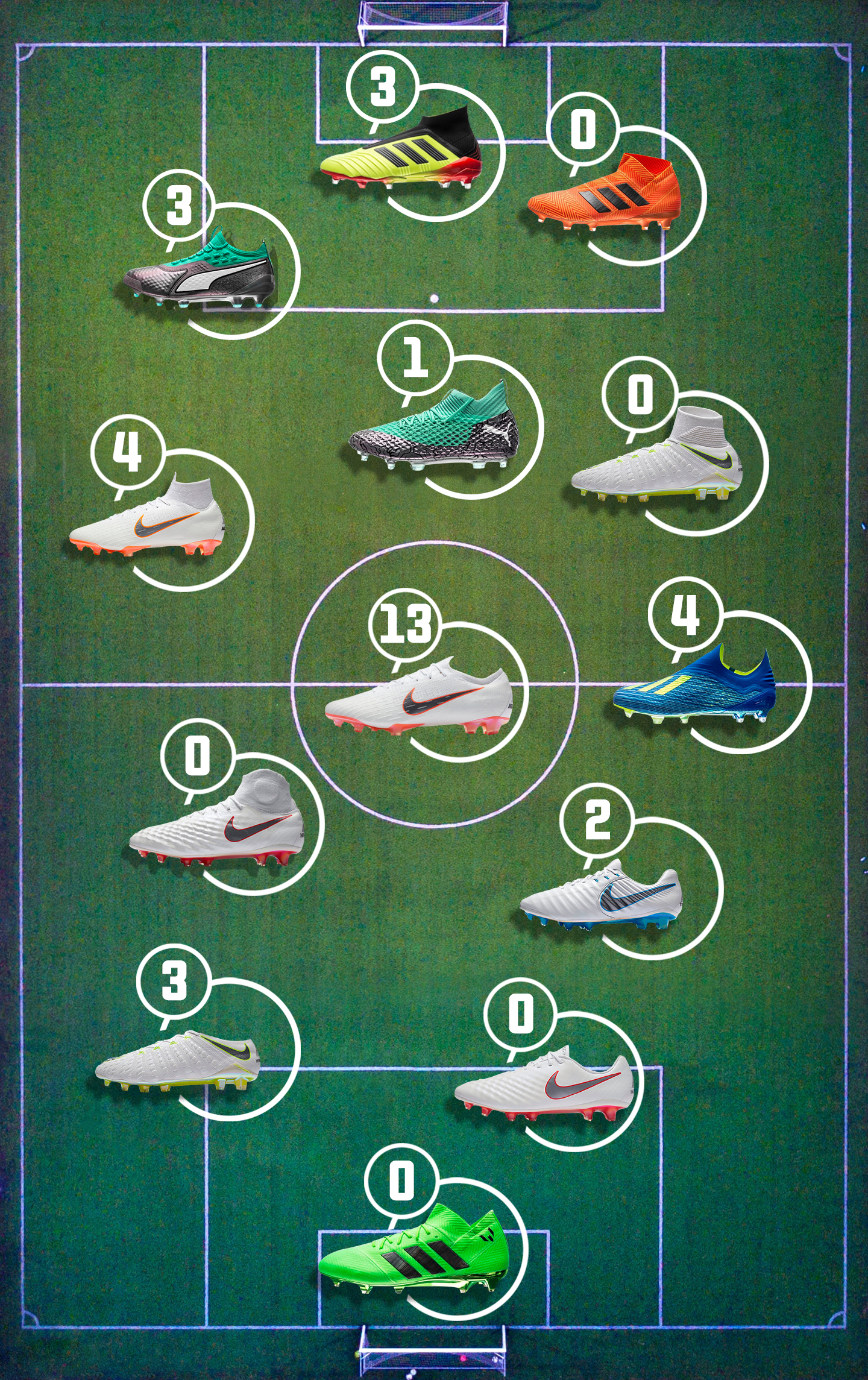 Jakub Jonáš - Top4Football.