Mercurial Superfly vs. X17+ PureSpeed
Comparison of new Nike and adidas football shoes
For today's comparison, we've chosen two pairs of the fastest football shoes of their kind – Nike Mercurial Superfly V and adidas X17+Pure Speed. At first sight, these two pairs couldn't be more different from each other, but they do share one thing – they'll never leave you straggling behind. What are their features and what makes them special? Let's take a look!
Launching the fifth generation of its most popular football shoes, Nike introduces several innovations that push the footballer's weapon to the next level. Thanks to their Flyknit and Flywire upper, they stick to your feet perfectly and provide a unique feel of confidence. Footballers just love soft surfaces and precise ball control, and that is exactly what the Superfly shoes offer. The shoes are designed for fast players, which is why they are very narrow and weigh a mere 193 grams each. The friction between the ball and foot at high speed is supported by a special Speed Rib fibre, visible on the colorful design of the upper. What's more, its Dynamit Fit Collar sock makes your feet stronger and more stable. The shoes literally merge with your feet, and thanks to their reduced weight they form ideal conditions for an aggressive rocket-speed style of play, underlined by the outsole with arrow-shaped studs.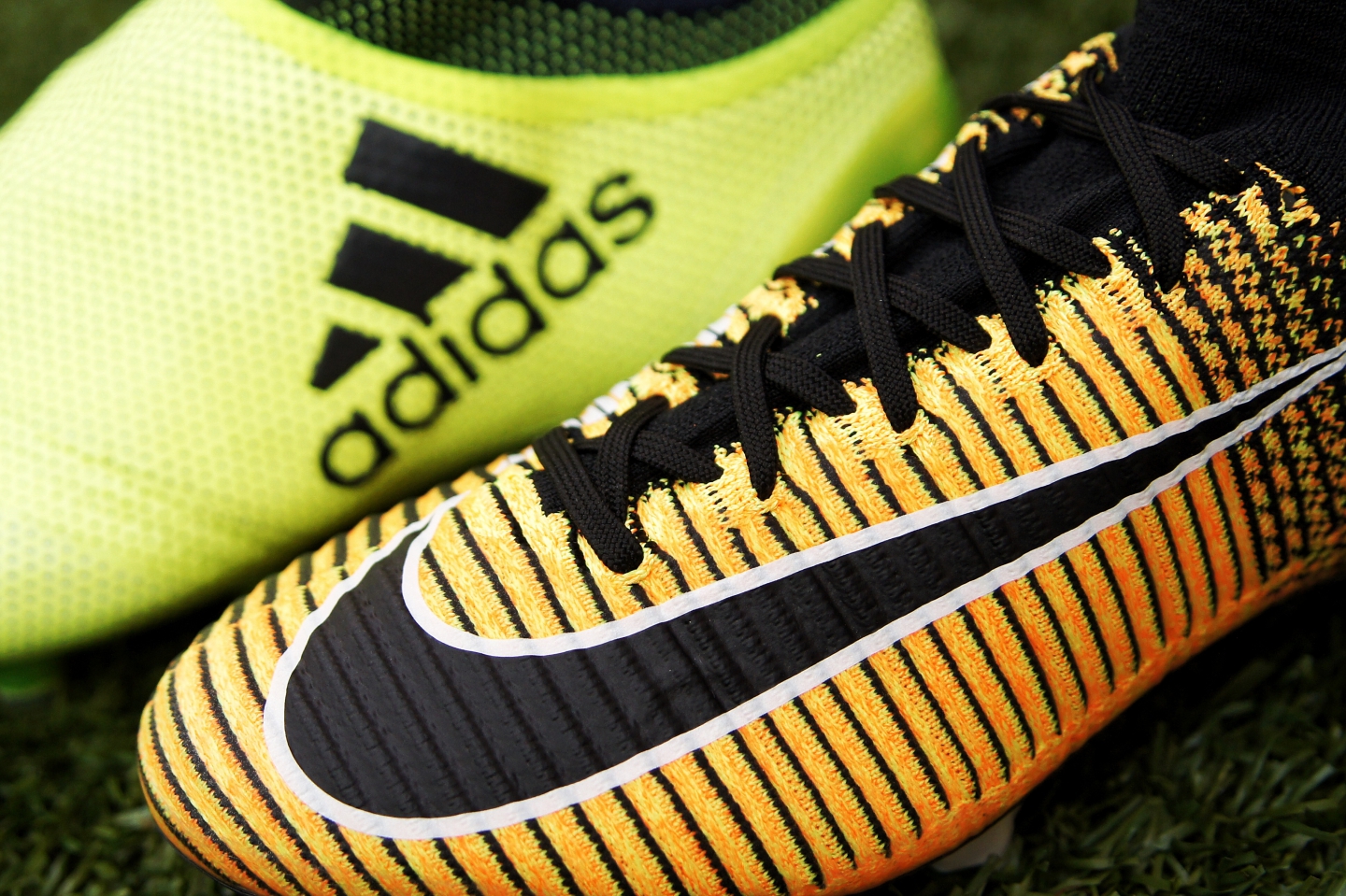 The X17+PureSpeed shoes just couldn't be more different at first sight. One of its major elements is a one-piece techfit® upper in a mid-cut design. It adjusts to your foot and molds just like you want it. Another innovation is its hidden lacing which met with great global response among footballers, as it strengthens your feet, improves the aerodynamic shape of the shoes, and provides flawless ball control. Pretty smart, huh? Its excellent heel structure firmly hugs your foot, so you can change direction immediately, comfortably, and elegantly even in tough positions. If you wonder how the hidden laces actually feel, just put the shoes on and you'll forget all about them.
The fundamental question here: Nike, or adidas? This time, we go for both of these brands, as with these shoes they've brought progressive innovations into the world of sports shoes that will be very hard to beat. Now, it's only up to you which of them you'd like to try. Come to Top4Football to choose yours.
Jakub Jonáš - Top4Football