Nike launches Nike Mercurial Superfly 360 football shoes
A new generation of Nike Mercurial Superfly and Vapor 360 football shoes is here
Sit down, make yourself comfortable, take a breath and let yourself get carried away by the speed which knows no bounds. A new Mercurial era is just beginning. This is a festive introduction of a new queen of speed – Nike Mercurial Superfly 360 football shoe. The world is ready. And how about you?
Polished up from the legacy of its iconic predecessors, the Mercurial Superfly 360 football shoe represents twenty years of significant innovations. A pioneer of football speed which was at the beginning of lots of legendary moments in the history of football. The Mercurial football shoe has made quite a name for itself.
Legendary players such as Ronaldo, Thierry Henry, Didier Drogba or Zlatan Ibrahimovič. The list of football players who amazed the world wearing these shoes is quite extensive. Since 1998, each Mercurial shoe has become a companion of the fastest players on this planet, and this emphatic connection still works. Kylian Mbappé and Marco Asensio look up to their heroes Neymar and Cristiano Ronaldo. Their legacy is passed on while the speed remains there.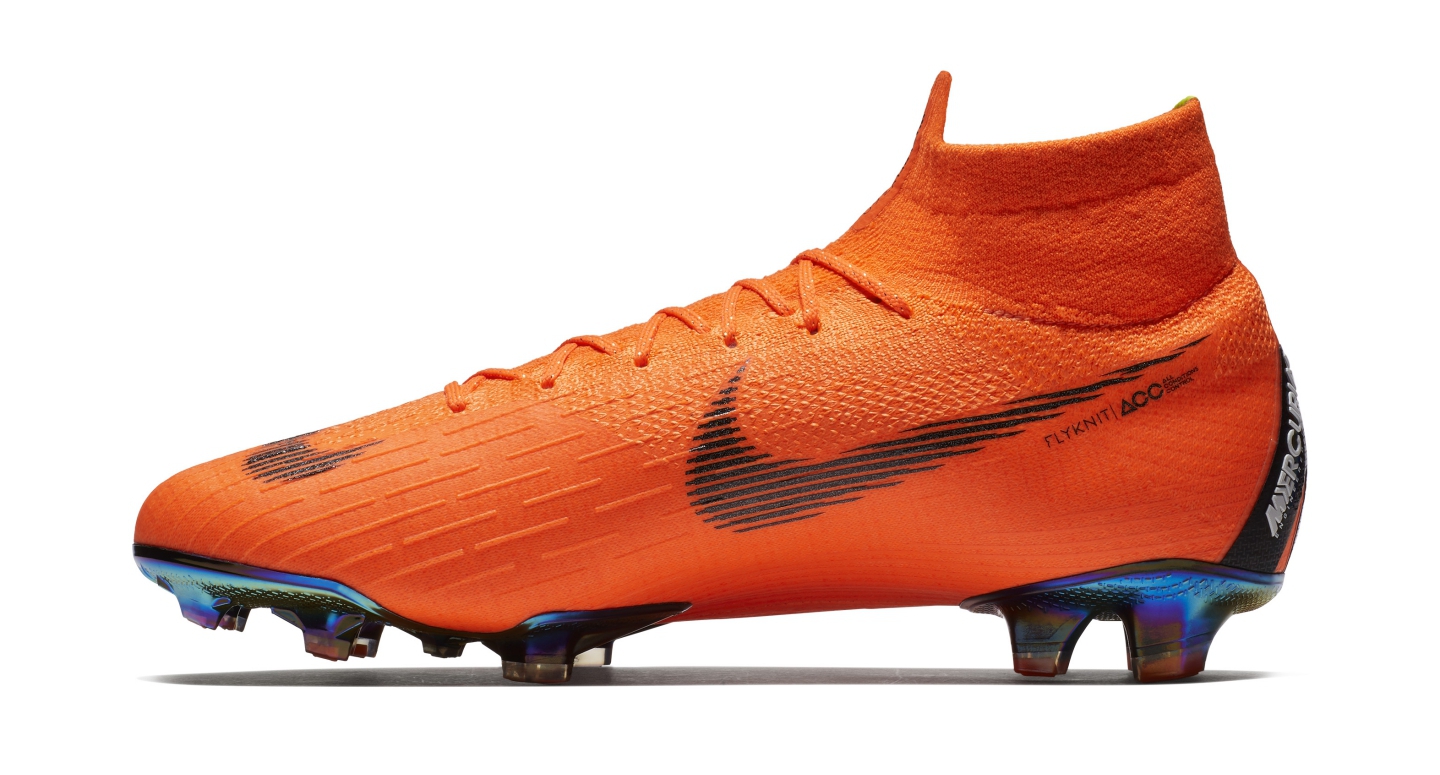 What magic does the shoe hold then? It's the number 360 you're thinking about, right? Well, it carries all the crucial technology brought with this latest Mercurial product. The entire 360-degree construction is made of popular Flyknit material which hugs your feet and prevents them from slipping inside the shoes, so nothing can ever prevent you from achieving the maximum speed.
The shape of the sock also interconnects the inner insole thanks to which each shoe size is adjusted to the bone structure of the given foot size. "With the previous Mercurial models we based everything on size 9. In case of this new model, though, we can deliver that comfort for each size," says Nike designer Jengwoo Lee.
At first sight, it's mainly the outsole which underwent major changes. The developers placed the studs separately on the front and back parts of the shoe. The layout was inspired by a cheetah paw.
The shoe has a very clean and simple look with a small, elegant Nike logo on the front part of the sole and a bold M on the heel. "The players wearing the Mercurial shoes are the fastest, which is why the M symbol is the last thing the opponent's defenders will see," adds Lee.
The players all over the world will wear the new Superfly and Vapor shoes already this weekend, and you'll have a chance to buy them in Top4Football soon.
Jakub Jonáš - Top4Football